Tradeshow Displays & Retail Signage
How important is brand awareness for your company at tradeshows and events? VMG has provided turn-key exhibit solutions for organizations from across the globe. Our team of in house designers create exhibit solutions that go beyond conventional exhibit brand marketing. We create immersive exhibit experiences by combining traditional tradeshow exhibits with our proprietary interactive digital display technology, creating brand stories that connect to your audience. Let us show you how our proven process can create new brand experiences for your organization.
DCentral Miami
Combining NFT and DeFi into one two-day packed conference, DCentral Miami is one of the most significant joint NFT and DeFi events in history. The conference took place on November 30 – December 1, 2021, at Miami Airport Conference Centre (MACC), coinciding with the largest art week in the United States, Art Basel Miami.
Several technology businesses exhibiting at the Dcentral Miami conference needed digital display systems to showcase their digital products and services. Services include blockchain gaming platforms, digital fashion houses, and blockchain software development services in the crypto space.
Drone Nerds
Drone Nerds is the largest distributor of enterprise drones in the United States. Their team of experts specializes in the development and support of drone programs across all major industries. They engaged Veteran Media Group because of our proven track record in concept design to completion exhibit services. VMG collaborated with Drone Nerds to create an exhibit booth capable of showcasing Drone Nerds' latest drone technology and software through our custom-designed tradeshow exhibit and digital signage system integrated into this world-class marketing display. Do you have a product or service that you want to promote? Not sure where to start? Contact our design team today.
Reline UV Europe
Reline UV Group is a leading manufacturer of trenchless pipe rehabilitation technologies. They have successfully completed underground piping system rehabilitation projects in more than 60 countries across the globe. Reline UV wanted to showcase their technology and services at one of North America's largest water infrastructure trade shows, the WWETT Show. Reline UV engaged VMG to design and develop a 40×40 exhibit display to showcase their trenchless piping rehabilitation technology products, hold onsite meetings with engineers and end-users, and integrate digital signage to show their comprehensive services in action. Do you work in construction or engineering? Do you have a combination of products and services that you offer? Let our team show you how we create award-winning products & services exhibit displays.
Hurricane Hyrdoponics
Hurricane Hydroponics is a developer and formulator of high-quality nutrients for the hydroponic agriculture industry. They engaged VMG to create an immersive exhibit with an interactive touch screen display system for their industry events and tradeshows across the United States. Our team worked with their marketing and operations groups to provide various design concepts for the exhibit and interactive touch screen. The interactive touch screen system substantially increased the number of interactions with potential customers. More interactions with your brand and more information delivered to your target audience translate to greater brand awareness and higher sales. Feel free to reach out anytime to discuss how our interactive digital signage solution can grow your business.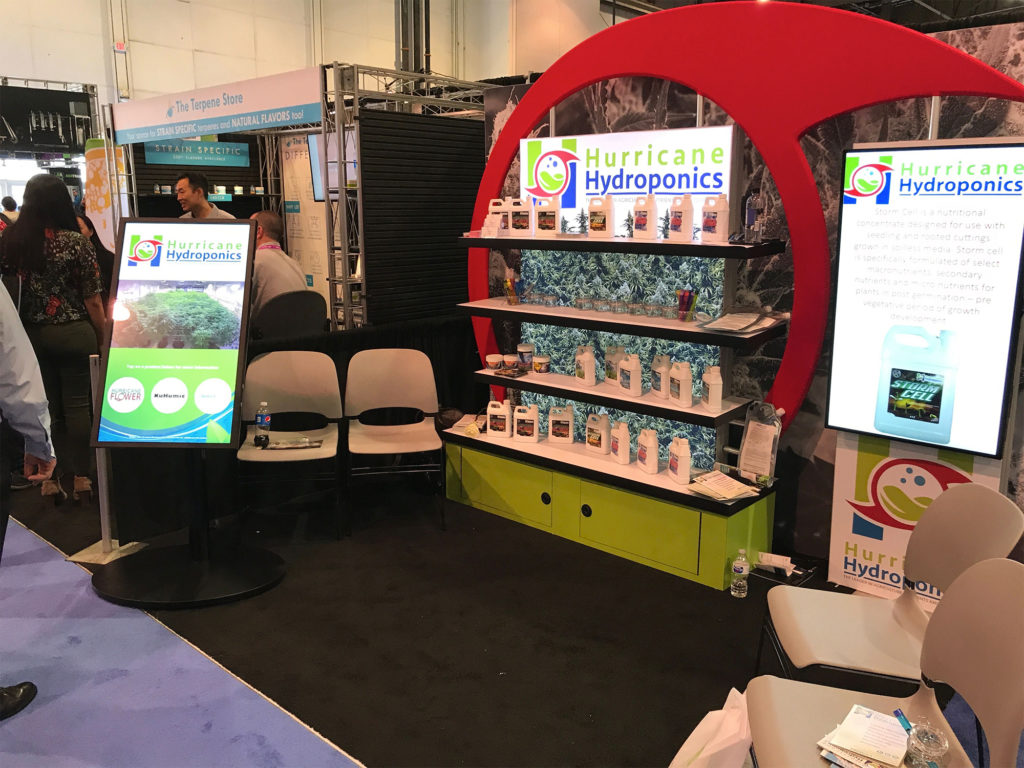 CONTACT US TODAY!